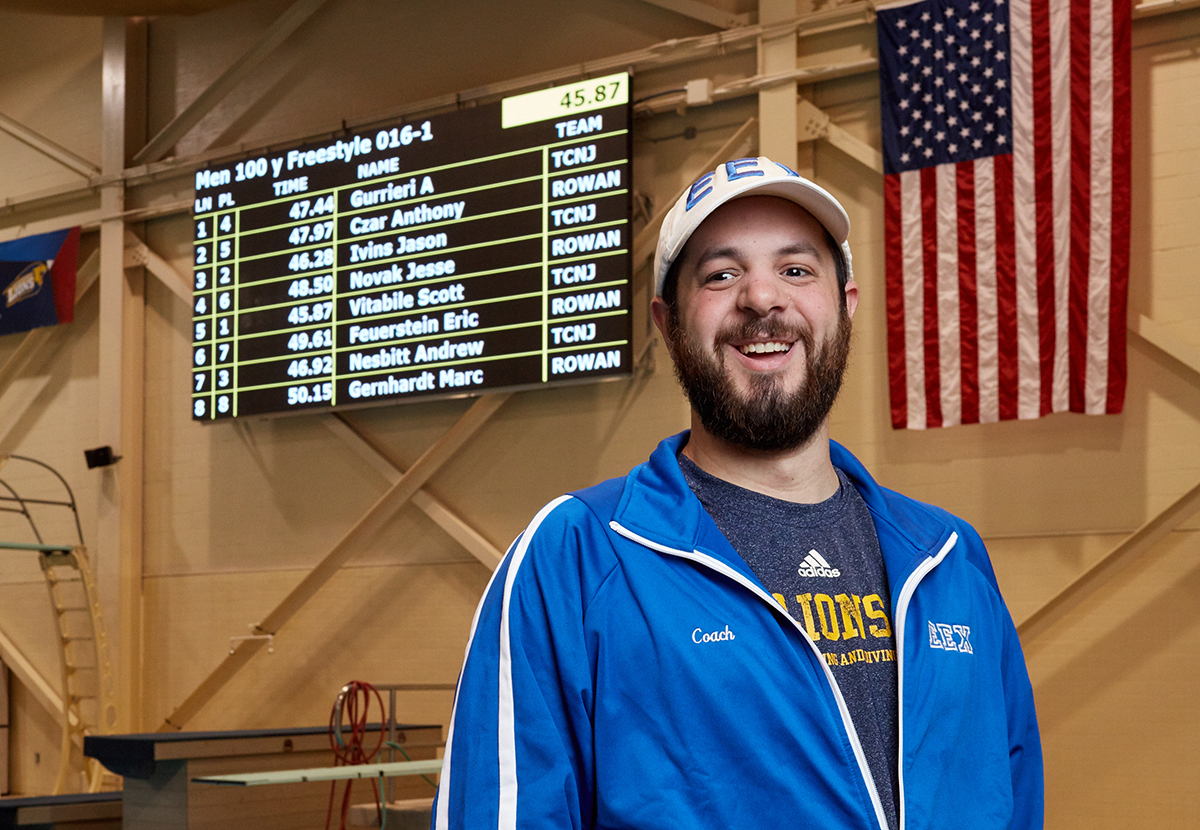 TCNJ's Aquatic Center is getting a significant upgrade thanks to a gift by Mike Randazzo '10. Randazzo, a lifelong competitive swimmer and coach, contributed funds to purchase a state-of-the-art scoreboard for the pool at Packer Hall. Paired with the college's new Omega Quantum timing system — the same system being used in the upcoming Summer Olympics in Rio de Janeiro — Randazzo's generosity has put TCNJ's swimming facility in a league of its own.
"It's the largest board of its kind in the U.S. that is in use in a short-course pool," says Brian Bishop, associate director of athletics and TCNJ's men's swimming and diving coach, referring to the pool's 25-yard length. Long-course pools are 50 meters.
The scoreboard will allow swimmers, coaches and spectators to enjoy swim meets as they never have before. It can display swimmers' names, lane positions, heats and times, while also simulcasting races, showing replays and announcing records.
"Any scoreboard can put up the results," Bishop says. "This one has so many capabilities, it's almost endless."
Randazzo swam his first meet at TCNJ in 2005 as a member of the state championship-winning Hillsborough High School Boys' Swimming team. He hasn't been far from the pool at Packer Hall since. He swam there recreationally throughout his years at TCNJ, also helping to coach the Lions and volunteering with the team. After graduation, he became head coach of Eastern Express Swimming, a member club of USA Swimming that trains and develops swimmers ages 6-18. TCNJ has been home to Eastern Express since the club was founded in 1987.
In thinking about how to give back to the facility that has been so central to his life and career, Randazzo says he wanted to do something worthy of the caliber of swimming that occurs there. "We now have a board that can appropriately showcase the performances that take place in that pool," Randazzo says. "It's going to give a new recognition and credibility to the athletes. That excited me when I was thinking of a way I could give back."
TCNJ's men's swimming and diving team has been successful at the NCAA Division III national championships, finishing in the top seven the past three years, with individual swimmers winning national titles. The women's team has been equally impressive, regularly landing in the top three at the Metropolitan Conference Championships and going undefeated in the New Jersey Athletic Conference, where they are four-time champions. Randazzo's Eastern Express has a swimmer who qualified for the Olympic trials this year, and the club boasts an Olympian, Andy Potts, who competed in the triathlon in 2004, won a gold medal at the 2007 Pan American games and went on to become a successful Ironman competitor.
Elite swimmers won't be the only ones to benefit. Bishop says the scoreboard can display "anything you can see on a computer screen," so movies and educational videos can be played during rec swim and swim instruction. There's also potential to generate revenue for the Aquatic Center by selling advertising on the board. "It's a tremendous, unbelievably generous gift," Bishop says. "It enhances the facility in every aspect."
---
—Denise DiFulco