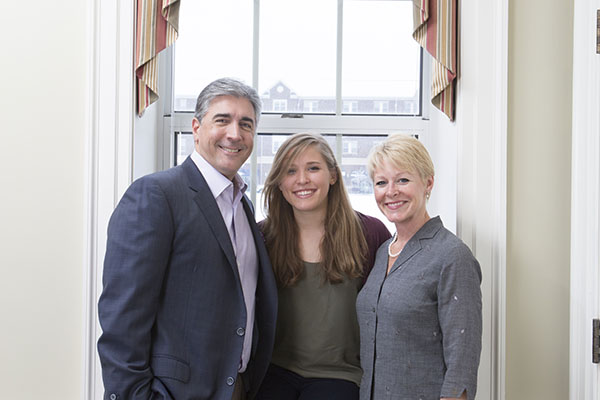 "What have you been up to since leaving the country club?"
When Leo J. Kelly III '97 was out with his father and heard this, he knew his dad had run into a former charge from the Mercer County Youth Detention Center. Kelly's dad worked one of his two full-time jobs as a corrections officer and was famous for seeing something special in even the most troublesome kids, Kelly says. "He realized that their circumstances gave them a label, and his goal was to break those labels."
His father did the same in other roles he held throughout his career. As an eighth-grade teacher for 37 years in Bordentown, New Jersey, he mentored the toughest students and gave them a sense of worth and accomplishment. And as an educator in Trenton, he helped students achieve a high-school graduate equivalency.
"My father was all about second chances," he says. "He was about finding the kid who faced tough situations, but had the character to work hard to be successful."
It's this kind of kid that Kelly and his family hope to attract with the Leo J. Kelly II Scholarship, designed to support TCNJ students from the Trenton, Bordentown, and Allentown areas who have overcome challenges on their journey to college.
The narrative is familiar to Kelly. Both he and his wife, Marcy, were nontraditional college students from Allentown, New Jersey. They worked their way through college, starting at a community college — Kelly transferred to TCNJ at age 24, while Marcy went on to pharmacy school. Both have a deep connection to TCNJ: Marcy's grandmother attended the Normal School and her brother and sister-in-law are alumni, and Leo and Marcy have a daughter and niece currently on campus as well as another niece who just graduated.
"This scholarship is about many things," says Kelly, founder of a wealth management firm. "It's about my dad's commitment to helping kids, it's about our path as nontraditional students, and it's about what TCNJ is, a roll-upyour-sleeves kind of place that develops pragmatic leaders."
It's also about paying it forward. Kelly credits the alumni who came before him with making the opportunities he had at TCNJ possible. "We see it as our responsibility to keep that cycle alive," he says. "We're passionate about finding kids like me and my wife — and giving them the opportunity to blossom." —Melissa Kvidahl '07